What is up with this tomato leaf?
This is one of the two potted plants on my friend Catherine's deck in Minnesota, and while the plants appear to be generally healthy, they're nowhere near the size of the monsters I wrote about a few days ago, which were all in the garden proper. Only one of the potted plants shows this curious purple-bronze discoloration.
Want to see it again? Closer up?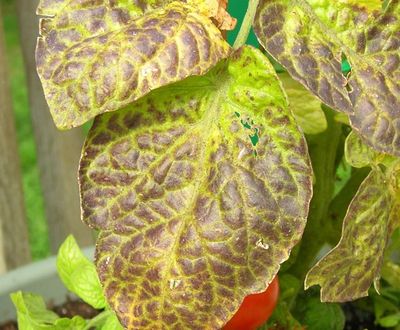 Does anyone out there recognize this bronze color? I've been through about every diagnostic site I can find, checked out numerous forums, and nothing matches. There's a lot of stuff on the web about phosphorus deficiency causing purple leaves, but that's primarily the undersides and veins, and this is exactly the opposite: the upper side of the leaf, and everything but the veins. Furthermore, this is a very bronze purple. I've considered sun scald and cold damage, nutrient deficiency and fertilizer burn, and just to be thorough, alien invasions.