What is up with this tomato leaf?
This is one of the two potted plants on my friend Catherine's deck in Minnesota, and while the plants appear to be generally healthy, they're nowhere near the size of the monsters I wrote about a few days ago, which were all in the garden proper. Only one of the potted plants shows this curious purple-bronze discoloration.
Want to see it again? Closer up?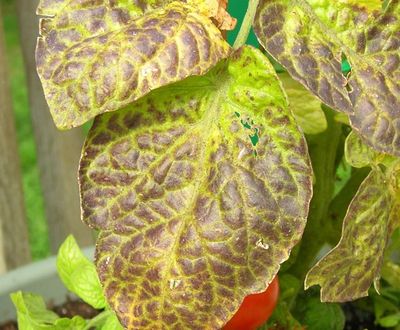 Does anyone out there recognize this bronze color? I've been through about every diagnostic site I can find, checked out numerous forums, and nothing matches. There's a lot of stuff on the web about phosphorus deficiency causing purple leaves, but that's primarily the undersides and veins, and this is exactly the opposite: the upper side of the leaf, and everything but the veins. Furthermore, this is a very bronze purple. I've considered sun scald and cold damage, nutrient deficiency and fertilizer burn, and just to be thorough, alien invasions.
Here's a picture of a tomato leaf suffering from phosphorus deficiency:

Source: Aggie Horticulture (Texas A&M) extension
Not the same. In the course of my research (or bumbling around on the web) I discovered a brand new problem for tomato growers to worry about, and at first it seemed a perfect fit.
Consider the name: Tomato Purple Leaf Disorder (TPLD to her friends). But while the appearance is close, it's not a perfect match. The leaf in this photo (from the University of Florida's extension pages) shows none of the shiny, bronze texture that's so clear on Catherine's tomato. Besides, TPLD hasn't yet made it out of a few counties in Florida, as far as I can tell.
BREAKING NEWS: In the midst of writing this post, while trying to find something about TPLD for 2010 (no success there) I found this photo:
Source: Citrus and Vegetable, 10/09/2009–cropped.
It's overexposed and has those weird dashed lines across it, but my gosh, does it look like Catherine's tomato or what? In the photo above, note that the the upper right portion of the leaflet has remained green. Vicki Boyd, author of the Citrus and Vegetable article, says that "Any part of the leaf that is shaded by other leaves or fruit remains green, while the portions in the sun will turn purple."
In my second snapshot above, the closeup clearly shows this phenomenon: parts of the leaf that are shaded by another leaf remain green. Okay, that's it: I've got to put these two photographs next to each other:
Anyone who read this post in its first hour up would have been treated at this point to a possibly libelous series of insinuations about big box stores and their probable role in spreading TPLD. I won't go so far as to disown those sentiments, but I do want to add that according to Boyd, researchers at the University of Florida believe that whiteflies transmit TPLD. So now I'm wondering about the life cycle, range, and longevity of white flies.
Does anyone out there know of something else that could produce the symptoms seen on this plant? If the leaves on Catherine's tomato look familiar–or if you're an experienced tomato grower and they don't–please weigh in. I'd greatly appreciate it.
Thanks.
(Edited and expanded.)